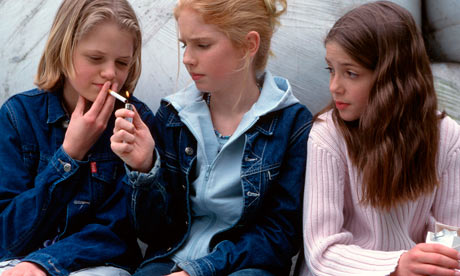 Teenage girls - essential market for tobacco companies
A recent report undermines the tobacco companies' campaign against ugly cigarette packs.

16 months ago I wrote about these packs and predicted "watch this one get dirty". Well I haven't noticed that happening yet, but maybe something has been going on underneath my radar. Meanwhile Australia's law forcing tobacco companies to use plain packaging came into force in November. Sludge green packaging with gruesome pictures of rotting teeth, eyeballs, blackened lungs and suffering babies is now mandatory.
Big Tobacco considers it's fighting for its life on this one. They love to argue that the packaging doesn't have any societal effect, merely distinguishing one brand from another.

Now here's a report that gives the lie to that. It comes from the Irish Cancer Society. Tobacco companies are trying to reel in women, it reveals, by creating candy-coloured packaging, white packaging, 'women-only' brands, low-tar, and new, super-slim products.

This need to sell cigarettes via their packaging is more acute in countries where smoking advertising is banned, such as in Ireland. In Germany, there are mango and mojito-flavoured cigarettes aimed at young women.
Half of poor, young Irish women are smokers, and are ashamed of their habit but are not able to quit nicotine, according to the Irish Cancer Society. One in three Irish women smoke, which the society described as "an epidemic".

Here's an extract from their report revealing their true views on the importance of packaging:

Quotes from the tobacco industry discuss the reasons for and benefits of superslim cigarettes: "Gallaher is launching a range of super-slim cigarettes under its Silk Cut brand packaged in "perfume-shaped" boxes to appeal to the female market. Silk Cut Superslims is positioned as a premium cigarette that rivals Vogue Superslims from BAT. The female-friendly pack design would give it an edge", said Jeremy Blackburn, Head of Communications at Gallaher.

"The new design brings elegance and quality to the superslim cigarette sector, which is in its infancy but offering great potential." (The Grocer, 2008).

Demislim cigarettes were released in 2011: "Vogue Perle delivers a new modern format for the female smoker. The premium quality cigarette provides a satisfying taste experience similar to standard King Size (KS) cigarettes, only designed into a new feminine format and style. The new packaging, designed in Paris also reflects the more refined and accessible cigarette size, with rounded edges, and a soft yet tactile texture" (Talking Retail, 2011).

UK health minister is for ugly packs

In this Guardian blog post last August, health services minister Dan Poulter argues for plain packaging for cigarettes as he debates what needs to be done to prevent young people from taking up smoking. Hats off to the minister. I haven't kept up with what's happened since.