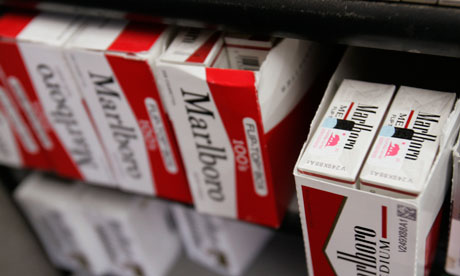 Here's a story that's going to be huge. Australia plans to force tobacco companies to use plain packaging carrying graphic health warnings on all cigarette packages. Big tobacco considers it's fighting for its life on this one.
We've seen
death threats against climate scientists
in Australia. I wonder if that's the sort of thing we can expect. Watch out also for links between lobbyists for tobacco and for climate change denial.
Under the Australian law, colours, brands, logos and promotional text on cigarette packets will all be banned. It will be a world first and is described by both supporters and opponents as the most draconian measure yet to reduce tobacco sales. The implementation date is next July.
I recommend
"
Ugly cigarette packs
"
, an Australian radio programme in the
Background Briefing
series.
The Australian law isn't in place yet. Their parliament has passed two bills, steered through by Health Minister Nicola Roxon. But there are more constitutional steps to go through yet before this becomes law, and I can't tell you any more about the process.
Law may come to the UK
The UK government is to launch, within the next few months, an official consultation on a ban on promotional cigarette packaging. This is the background to tobacco giant
Philip Morris demanding access
to Stirling University's research into the smoking habits and attitudes of teenagers.
The tobacco companies are threatening to use World Trade Origination rules to sue Australia for infringing intellectual property rights, hoping to spend significant amount of money in the courts and whack Australia with a huge compensation bill. But they won't be stopping at legal action, just you watch.
PS I've heard the Himalayan kingdom of Bhutan goes one step further - becoming a smoke free nation. Not entirely sure that that means.
Here's another recent story (London Independent Saturday, 3 September) :
Smoke and mirrors: how the tobacco industry hides behind lobbyists